Advanced solutions for the semiconductor industry
ATPS 42 with 4 x A300s

ATPS 82

ATPS 42 with A300s + Roots

Using new technology
Adixen by Pfeiffer Vacuum took the benefit of A100 and A300 compactness to design a modular tool pumping system able to meet the need of most tools and applications. This range is composed of two versions : ATPS 42 and ATPS 82, depending on the pumping line configuration. Optional abatement systems can be integrated on the right side.
High performance and lower noise level
• 100 to 1 700 m3/h independentpumping line combinations are available
• Pumping speed and ultimatevacuum are similar to or better than corresponding conventional pumps
• Noise level is divided by morethan two compared to conventional pumps.
Save footprint for a variety
of applications
• Between 30 and 50 % footprintgain when compared to stacked conventional pumps with the same pumping capacity, even more when compared to a typical full on-floor pump configuration
• All existing semiconductorapplications are covered such as etch, HDPCVD, PECVD, SACVD, LPCVD, RTP-CVD,...
Increased safety
• Exhaustable enclosure for all pumps including pump outlet connections and abatement system
• Optional safety sensors such as gas or smoke/fire sensors
• Lower pump weight means safer handling.
Faster hook-up
• The centralized utilities and fullydefined vacuum connection locations results in significant reduction in installation and start-up time
• The number of facilities connection can be reduced by more than six.
For 6 to 12" fabs
The Adixen by Pfeiffer Vacuum ATPS series provides the ultimate solution for gaining or saving space in existing or new fabs needing a remote pumping configuration.
Outline dimensions
The ATPS 42 and 82 have been designed for abatement system integration. These abatement systems can be provided
by selected partners, having a leading position for each application.
The abatement technologies include, among others, dry bed, burner/wet, wet, or plasma for PFC abatement.
The integrated abatement system enhances ATPS benefits such as footprint reduction, pipework integration and centralized
facilities for faster hook-up/start-up, and higher safety.

ATPS 42 + Dry bed abatement

ATPS 42 + Burner/wet abatement

ATPS 42 + Atm. plasma + Dry bed abatement
*A=1300mm
Faster hook-up
ATPS is shipped with all pumps already installed, fully connected and tested in the frame.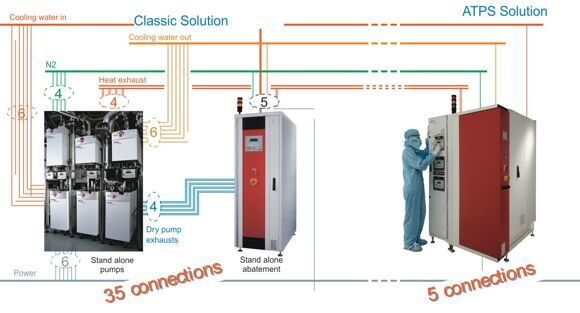 Centralized supervision network
Compatible for all Adixen by Pfeiffer Vacuum stand-alone pumps and selected abatement systems!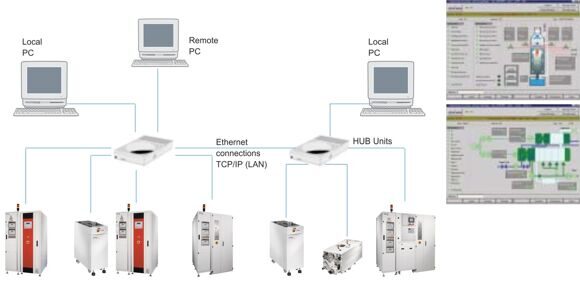 Options / Accessories
A full range of accessories is proposed as:
- a package which includes lighting tower, liquid sensor, air flow sensor, door opened sensors
- powder trap, hot traps, cold traps,... a range of application based solutions to increase pump life time which can be safely integrated within the ATPS
- seismic brackets
- inlet isolation valves, with or without soft pumping
- N2 and cooling water flowmeters

Traps



Inlet valves, with and w/o soft pumping


Lighting tower


Flowmeters



Seismic brackets



Maintenance
| | | |
| --- | --- | --- |
| Easy maintenance with specific tools | | |
| | | |
| Transport of one A300 pump | | ALT 22 elevating table |
Technical specifications
ATPS 42
ATPS 82
Peak pumping speed (50/60Hz)
From 95 to 1 700 m3/h (55 to 1 000 cfm)
Ultimate pressure w/o purge/ with 35 slm purge, mtorr
A100/A300 pumping line = 5/ 50
Roots pumping line = 0,5/ 5
Noise level (at ultimate pressure), dBA
58 to 65 dBA *
Dimensions (W x D x H at top frame, w/o abatement), mm
460x1300x1902
920x1300x1902
Power voltage
200-208 V or 380-460 V
Inlet/outlet size
SO 63 or ISO 100 / KF 25
Cabinet exhaust requirements (w/o abatement)
104 mm O.D, 100 to 150 m3/ (60 to 90 cfm) * - sub-atm > 150 Pa
Frame footprint w/o abatement
~ 0,6 m2 / 6,5 ft2
1,2 m2 / 13 ft2
Frame footprint with one abatement module
~ 1,6 m2 / 17 ft2
2,2 m2 / 23 ft2
(*) depending on pump configuration
Цена
По запросу